Cacheflowe is Justin Gitlin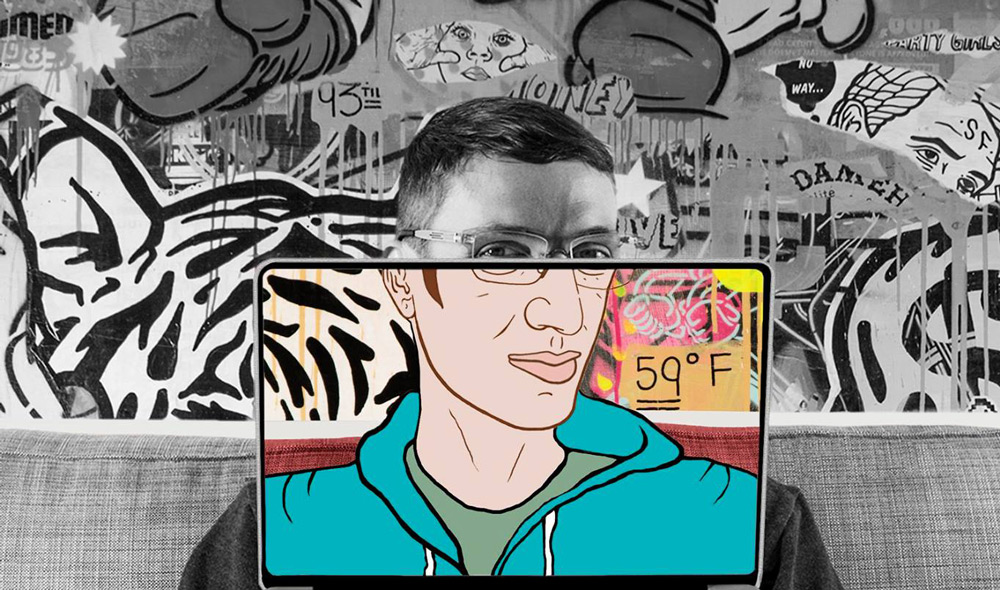 Justin Gitlin, a.k.a. Cacheflowe (/ˈkaSH ˌflō/), is a creative coder, musician and multimedia artist based in Denver and Boston, USA. His disciplines have increasingly intertwined after spending two decades in parallel worlds of software development, music and multimedia production. Justin has built video games, interactive installations, web sites and mobile apps for clients like Nike, Google, and the Denver Art Museum. His work has been covered by major media outlets like NPR, Buzzfeed, and the New York Times, and has received awards from the FWA, Awwwards, and The One Club, among others. As a genre-crossing musician, Cacheflowe has released music and shared the stage with an array of innovative artists like Amon Tobin, Ulrich Schnauss, Ladytron, Machinedrum, Dizzee Rascal, Daedelus, and Nels Cline. As a visual artist, Justin creates algorithmic designs for print, apparel, physical products, music videos, art installations and brand design. His visual collaborations and original concepts have been shown at museums like the Smithsonian and MCA Chicago, at immersive art experiences like Meow Wolf and WAVE Festival, and independent galleries like Dateline (Denver), Space Debris (Instanbul), and GO Gallery (Amsterdam). Justin was a co-founding partner of Mode Set, Ello, OhHeckYeah and Plastic Sound Supply, and currently serves as the Director of Technology at Hovercraft Studio.
Curriculum Vitae
Select Clients
Airwalk
Arrow
Audi
Base Directory
Callaway
Capital One
Cobra
Coca-Cola
Colorado Lottery
Continental
Copper Mountain
Dell
Denver Art Museum
Denver Botanic Gardens
Gaia
Google Creative Lab
Intercom
Kalisher
KGNU
LAIKA
Madame Tussaud's
MCA Denver
Museum of Boulder
Nike
The North Face
Northeastern University
Oakley
Palmer Snowboards
Pepsi
Qdoba
Reebok
Sendgrid
Sony Pictures
Vans
Verizon
Agency Partners
Astound
Cactus
DDB
Display Devices
Ebb+Flow Creative
Enjoy The Weather
Factory Design Labs
Fear Not Agency
Futuristic Films
Guiceworks
Hovercraft Studio
Karsh/Hagan
Latenight Weeknight
Legwork Studio
Made Movement
Math Times Joy
Mode Set
SPILLT
Reddymade
rEvolution
Wasserman
Weiden+Kennedy
Art & Cultural Partners
Audiopixel
AIGA Colorado
Boulder Museum of Contemporary Art
Breckenridge Creative Arts
Breck Music
Chicago MCA
Colorado History Museum
Colorado Rockies
Colorado Symphony
Denver Art Museum
Denver Botanic Gardens
Denver International Airport
Denver Museum of Nature and Science
Denver Theater District
Downtown Denver Partnership
Ello
Flobots
Goldyn
KGNU
MCA Denver
Museum of Boulder
Night Lights Denver
OhHeckYeah
Smithsonian Institute
Awards
Select press: Music
Teaching & Workshops
Boulder Digital Works
gSchool
Metro State (Denver) / Center for Visual Art
Northeastern University
University of Denver
University of Colorado, Boulder :: ATLAS & CMCI
University of Colorado, Denver
Turing
University of Southern California School of Cinematic Arts
Speaking & Presentations
AIGA Colorado
Center for Integrated Arts Education (CIEA)
ConvergeSE
Denver Startup Week
Develop Denver
Full Stack Denver
General Assembly
Google I/O
Refresh Denver
TEDxMileHigh
TWF (Poland)
Interviews & Articles
Employment
Hovercraft Studio
Director of Technology
April 2021 - present
Cacheflowe, LLC
Independent Creative Developer
August 2016 - present
Mode Set
Director + Developer
June 2011 – August 2016
Factory Design Labs
Director of UI Development
July 2005 - June 2011
3Si Holdings
Software Developer
July 2003 - June 2005
Clevermedia
Game Developer
June 2000 - September 2001
Education
University of Denver
B.A. Computer Science
B.A. Digital Media Studies
Minor: General Business
1998 - 2002
Select Quotes
"I've never seen Justin miss a deadline."
"He is just very pro and knows what he needs and can deliver."
"I can always rely on Justin to follow through on his commitments."
"He is the king of managing multiple projects!"
"Justin is an undeniable expert in the field of creative tech. I feel very lucky to work with him."
"[Justin] shows interest, listens well, is patient, and is generous with his time and his attitudes toward others."